Mexico
Summer of 2013 on the west coast of Mexico. Our blog is below.
Surf Camp – David, Cielo and Risa
Stand-up paddle-boarding to the pier
Jumping off the pier
Surfing at Punta Mita and La Lancha
Fishing off the pier with daddy
Losing Daddy's hat on the pier
San Pancho swims in the swell
turtle release at sunset
Lime, soda and grenadine drinks
Dying hair red, and then the dye washing out in one day
Spanish lessons with Omar, Nancy y America
Bea's hot ice-cream
Painting flowers in boxes
Frida Kahlo boxes
Zombie Black bogey and laughing very loudly at midnight
Mila getting chucked at mommy.
Walking to the shops alone
Discovering the short cut to town
Going on the dune buggy and Frank not waiting for us to be on before taking off
Finding turtle eggs with Frank at midnight
Playing with baby turtles
Playing Paper airplanes (Destinations) with Alex
Deciding to start a marble company
Catching pescado – needlefish, mackerel
Not catching snoek
Landslides in the rain to San Sebastian
Fish tacos in the road intersection
Chips with chile and lime
Tostito chips
Best guacamole
Inventing Panlets. (Small pancakes)
Penguin frying pan
Meeting Alex, Jenson and Cleo.
Missing burgers.
Making the Happiness FB page
Egypt and Pakistan going 'Like' crazy for happiness
Running to get paddle-boards and paddling into the bay to be with the dolphins.
Having the dolphins all around us.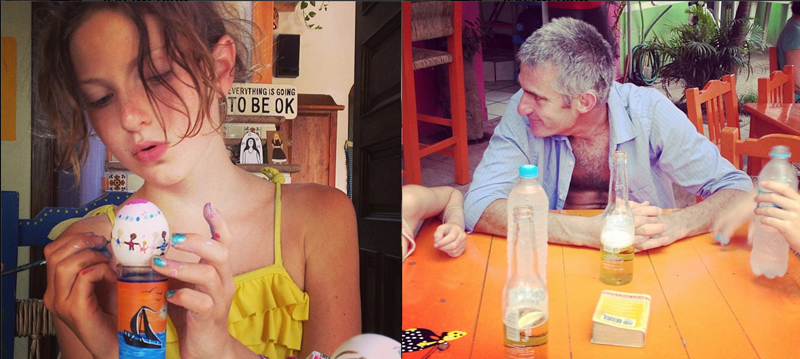 Film 03: Day-to-day Sayulita-ing…

Film 2: Liberación de tortugas

These are Olive Ridley turtles.
Incubation is 45 days.
Average of 97 babies per nest.
1 in 500 survive release.
After release they swim due west for 5 days to hit the northbound current (75kms offshore).
15 years later the survivors will come back and nest on the same beach.
This species has seen something like 80% decline in one generation and like all sea turtles, are a threatened species.
Tenemos suerte de estar pasando el verano en Sayulita Mexico.
Film 1: Nuestra Casa