Zimbabwe
5 weeks – Botswana > Zambia > Zimbabwe > Mozambique.
The blog is below.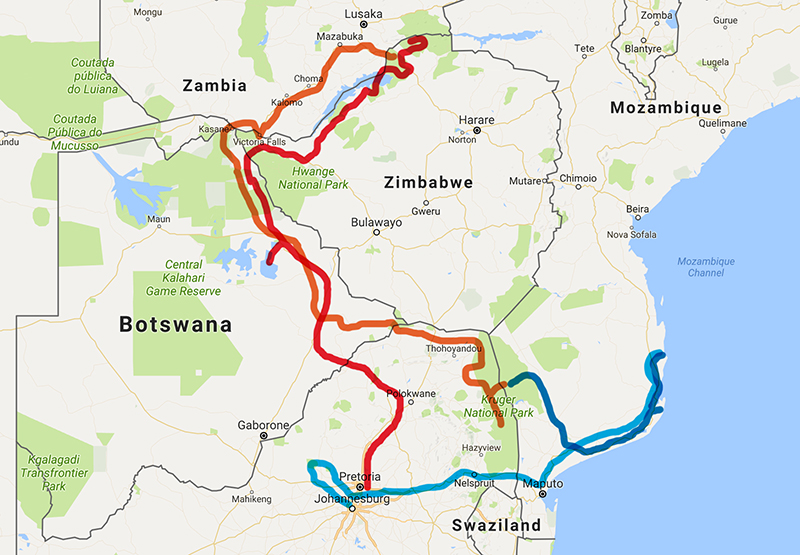 Words are hard to find for how happy and sad I feel right now. This incredible five week trip is at an end.
No phones, no outside world, just a home-laminated itinerary, a map or five, a trusty vehicle, a carful of the essentials, a love of Africa and each other.
The last time we were at Pomene Lodge the much-loved managers Neville and Wendy Ayliffe were about to leave, a significant change for the place. We spent their last week with them, alone in the resort. It was closed due to a cyclone, we were the only people there, they looked after us like old friends and even shared their biltong.
This time we learnt that the lodge (est. at least 20 years ago) has just been sold to an Italian-Swedish cruise company MCC. All the wooden houses and buildings are being pulled down. Cruise ships will cruise (that is what cruise ships do, right?) from Durban, stop, and then return to SA. The ship, with 2,500 people, will stop at Pomene. About 60% of the passengers will disembark and hang out at the new lodge and do activities (that's 1,500 people!!! Current residents at Pomene Lodge – estimate 20). A few passengers will stay overnight at the 6 star lodge, including where our shack at the end of the spit now is – it will be $2,000 a night.
The change of ownership happened on our last day in Pomene. Some people are sad, change is hard. It will hopefully be good for the local community, and it's an eco-company, whatever that means in Cruise-ship Reality. These last wild places on earth are precious and fragile.
Amongst the last visitors at Pomene Lodge

From top, left to right and little clusters:
Sketch book, nice pen, Olive oil, toilet paper, binoculars, notepad, zip-lock bags
Real camera, workman's gloves, clothes' pegs (a luxury really), matches, go-pro, cable-ties (controversial)
tupperware, Leatherman, cards, lap pie, glasses, head-torch, bird book, salt, vinegar, USB multiple adaptor, tie-down
Map, toothbrush, nappy-rash cream, sharpie, scissors (pair of), anti-histamine, Ibuprofen, Swimmers' ear drops, face sun cream, waterproof body sun lotion, onion, lemon, garlic, chopped garlic in oil, tin tomatoes, kikoi, mask, tape

Missing from photo: chocolate, Ralph's reading glasses, Johnson's Baby Shampoo (shampoo, soap, dishwasher, clothes washer), lip balm, nail clippers, Coffee filter made from tearing up Ralph's unworn boxer shorts, LOTS of books
What we wish we'd had: a good spotlight
What we always take but never use: Southern hemisphere star constellation map
Who knew?: We did use the laser pointer to play with Beala, the Pomene Lodge kitten.
At the end of the peninsular is the ruin of a hotel.
It was built in 1968 and closed after only six years, with the start of the horrendous civil war which claimed the lives of over a million people, including many in this area.
We love walking around the ruins. The light was dramatic – end of the day and a storm brooding. That photo of the rainbow was fortuitous as it includes the exact spot we ended up diving (we didn't know at the time).


The map on the left is from a poster for the ruined old Hotel. Photo on right taken from a Reef book, they're arrow-dart gobies (if you wanted to know) that we saw on the second dive.
We really wanted to return to Pomene. It's 3 hours from Tofo, at the end of a long red dirt road. Pomene Lodge is the only place to stay, built on the end spit of beach sand by a river mouth on the Indian Ocean. It becomes an island for several days a month.
We camped in 2012 but the wind was blowing and we'd gotten used to a certain level of luxury in Tofo (beds! sinks!) AND the original Robinson Crusoe wooden house/beach shack at the furthest point – "The Glen" – was available. Ralph and I dream of building a house which is a horseshoe or L of rooms around an open courtyard, connected by an outside corridor. Now we have our prototype.
Back garden beach

Shell collecting is taken reasonably seriously by our family.

Every morning a group of local ladies strode in to sell us fresh fruit and vegetables.


The gracious and beautiful locals – George (manager since 2008) and the dolphins that jumped for Ralph and the girls on the way to a dive 13km out to sea (see video for how fast they swim).

6 days in Tofo.
We LOVE Mozambique – Indian Ocean meets Portugal meets Africa – food, people, beaches, snorkelling, diving,…off-the-chart happiness. After 4 dives, Bea and Mila have completed their Open Water diving certification. We saw manta rays, moray eels, turtles and the huge richness of sea-life. We could hear humpback whales underwater. Tofo is incredible.
Ralph and I decided to dive, for the first time in 18 years. I wasn't sure whether I'd have the courage to do it.
And on the first dive, I jumped into the sea, took one look at the inky churning blackness below, felt the fear, and said, to no-one in particular, "I can't go down" and started swimming back to the boat. But Moises, one of the dive masters, said, "Yes, you can. Just look at me, and follow me". And I did. We did it!
Tofo Mozambique, swimming with very big fish. We are very happy and very lucky.

Snorkelling Safaris
Now is the humpback breeding season so the sea is full of humpback whales. But the main hope was to see whale sharks and swim with them.
On our first boat ride out, the weather was overcast and the sea a bit rough, and we didn't see any whale sharks although we saw plenty of humpbacks, mothers and calfs, and breaching out of the water.
So we went again a few days later when the weather had cleared, and spotted four whale sharks at four different times. Each time we would all jump in and snorkel alongside the 10-20m fish. The whale sharks swam at a leisurely pace but we still had to swim quite hard at times to reach them. Ralph was always the first in and swimming like the clappers to find the shark from within the water. When he'd find it, he'd stay snorkelling alongside and put his hand up in a triumphant fist above the water to signal to the others EXACTLY where it was. It was exhilarating.
We weren't supposed to get more than 2 or 3 meters away, to respect the whale shark's space (i.e. for their sake, not ours). But once I suddenly found myself face to face – and on top of – the whale shark, having had no idea it was there. It was a 'Yikes!' cartoon moment. (And captured in the go pro video Ralph made).
Later that day we went on our final dive and on the way to the site Michael, our dive-master, spotted some giant manta rays in the sea. We took the boat to them and jumped in with snorkels fins and masks. Mila and I were the lucky two to see a giant ray from in the water, about a meter away. They are the most mad looking creatures, and HUGE, and frisky.
We also saw a local baptism ceremony from the beach, which Mila drew (below). Bea sketched the whale shark. The sea is full of life and the sketchbooks are full of art and writing!

We have found our home for the next four days – a beachfront reed house at Casa Barry in Tofo on the Southern side of the beach. We jumped into the sea, it's the perfect temperature, about 24º and there are just enough shells to collect but still feel like treasure.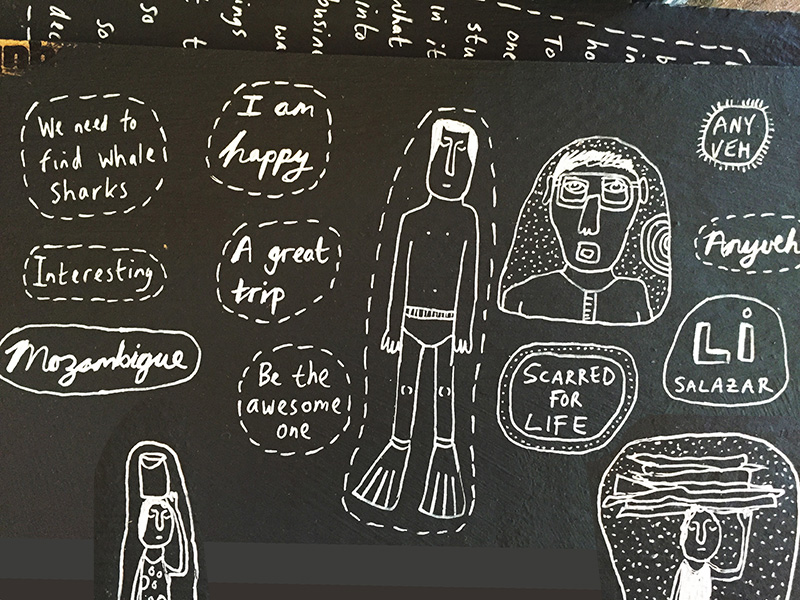 We 'discovered' Branco's which serves amazing pizzas and 'hot-rock' meals – literally you are provided with hot rocks and raw tuna/beef/prawns in the most delicious lime and garlic marinade. You sear your meat on the rocks and eat. omg.
The girls kill us at "Bau" – the game Ralph bought in Livingstone Market. Ralph played in Malawi 25 years ago and has been wanting to buy a board for decades, literally!!
We drove from the Limpopo National Park across the southern bit of Mozambique to reach the coast. Easy driving. There are still road blocks but 'tourists' are not stopped. There are street vendors everywhere, none in January 2012. Everyone is growing mielies in their front yards. Perhaps it's just the time of year but Mozambique does feel more functional than in 2012.
Arriving at Chidenguele (on the coast a bit above Xai Xai) was one of those magic traveling moments. We reached the sea/lagoon at highest tide as the early evening light struck. We felt like we were the only people in the world.