Lisa: We arranged to go on a guided overnight hike up volcano El Hojo near Leon. We could have hiked it ourselves but decided to go with a guide as we did not have any of our own camping equipment.
As we set off, we knew we'd not scored well with our guide Oscar, when he pointed out the natural features of the landscape including (I kid you not) clouds and cows. Oh my how he did annoy us.
We walked for three hours and reached a stunning place to camp at the top. Views of other volcanoes, craters, lagoons, Lake Managua and lush green forest as far as the eye could see.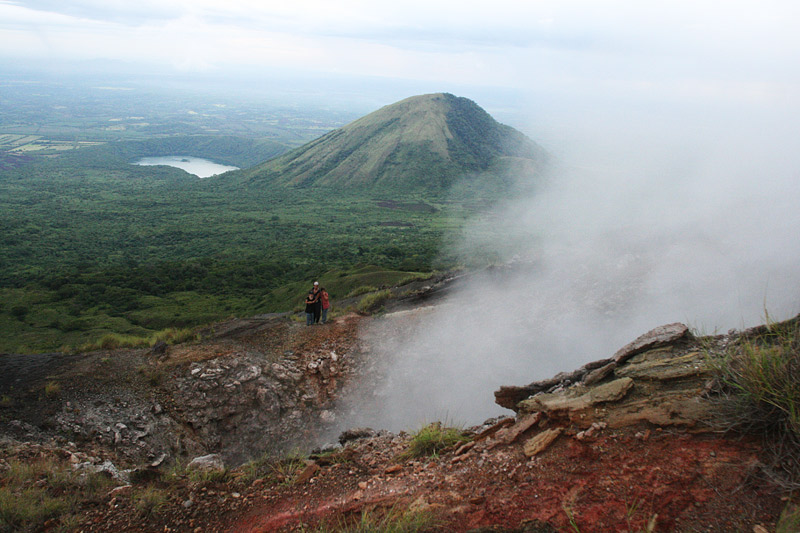 One can see lava inside the craters of some volcanos nearby, but our volcano had a hole with sulfurous steam coming out. We hiked a bit to look at the hole – it was totally profound to all be there together. What an amazing year we have had.
Then we went to set up camp. We discovered we had no bed mats or sheets provided (when we'd asked Oscar if we had mattresses he'd said 'yes'… but thought we'd said matches).
That we could handle. But! The 'tent' we'd been provided with, had no fly sheet. (Note: It's the rainy season with torrential rain almost every night). Instead Oscar had a long thin sheet of holey plastic to put over the tent shell, and (I kid you not) MASKING TAPE to stick it all together.


Whilst deciding whether to walk back down the volcano right there and then, my eyes alighted on… Oscar's tent. So our family of four crammed into a leaking one man tent, leaving Oscar bivouacked against the storm.
Luckily we had hysterics (well, Ralph, Bea and Mila – I had a *TSOHL) falling asleep in our tiny tent (see photo left above). Mainly centered around how curiously hard cow poos can feel as a mattress. It was just last night….so we did survive it…!! And already laughing at the memory…
*Total sense of humour loss