A fine balance
We're covered in a thin layer of diesel and Liquifruit, and burrs and Johnson's baby Moisturiser. It feels sustainable but we were very happy to camp in Binga by a pool and lawn, the empty Kulizwe resort by Lake Kariba. No other guests. The girls revelled happily in the novelty of green grass, rather than dust.
The Light of Life
On the way to Matusadona, we stopped by a huge baobab at the start of a dusty drive. We got out and walked to a plain white building which was the "Light of Life Ministry" – in the middle of a Sunday service.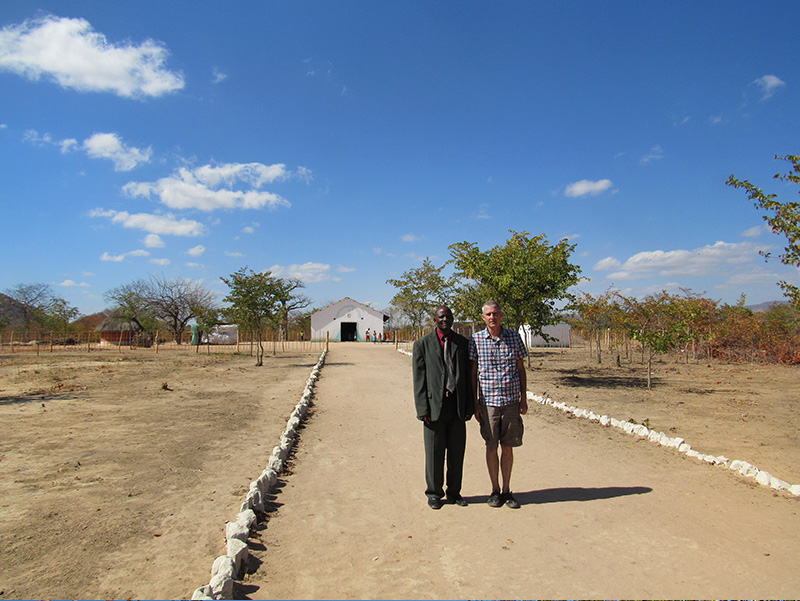 Pastor Simon (who founded the church many years ago and now has 1500 members across six churches) came out to greet us and guided us into the building, which was filled with about 150 people of all ages dressed in colourful Sunday best. They seemed arranged in size, age and colour order. Glorious technicolour. Everyone sang and clapped. Simon brought his eight children to meet us one by one, passing before us shaking clammy, sweaty, lovely hands. Simon's eldest son translated into Themba the Pastor's speech – blessing God and us and our journey. Bea nudged me ("moh-ohm!") to stop crying.
Seeking the Prophet
Later we passed a man impeccably dressed in a dark blue velvet suit and hipster specs, needing a ride. We took him some way towards his destination, Bumi Hills (sadly not pronounced Bummi by anyone except me). With a lot of gesticulating, smiling, nodding and multiple choice questions from Ralph, we uncovered his story, we think. Husband, father of two young children, he is a brandy salesman from Harare, who's job is under threat. So he was traveling from Harare by bus and foot, to reach the Prophet Severnos past Mola in the Bumi Hills, who would give him advice on what to do next, the power to make his own destiny.
After that we headed towards National Park Matusadona, pre-warned that the last 70km or so were dastardly. Which they were, three rocky, broken, hairy dastardly hours of driving to get to camp. Windows down to avoid Tsetse flies, quite unhappy and unsure of what we'd find at the end of the road.